Goodreads Contest: April 7 - 26, 2018
Enter for a chance to win 1 of 25 copies of Amish Brides
You're invited to a Girl's Getaway Weekend in Sugarcreek, Ohio, June 15-17, 2018 to meet me, Shelley Sheperd Gray, Amy Clipson, Jennifer Beckstrand, and many more Amish authors. Click here for more information: https://www.facebook.com/groups/1713587142276699/
Get your hotel reservations and dinner and invitation to
signing now before slots are sold out.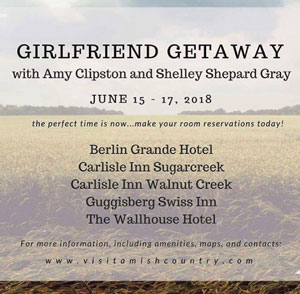 Molly will be speaking:
Friday, May 4, 2018 at 11:00 a.m.
Women's Christian Connection
Luncheon and Fashion Show
Quail West Country Club
13300 Valewood Road
Naples, FL 34119
Reservations Required: Use "contact page"
to notify Molly for Reservation contact
Family Fiction Magazine featured LIZA'S SECOND CHANCE
for the February Special Issue!
Click here for your free article and to learn more about
all kinds of fun information at Family Fiction!
https://www.familyfiction.com/molly-jebber-just-desserts
LIZA'S SECOND CHANCE RELEASED JAN. 30TH!
First book in my Amish Charm Bakery Series!